The KTM 450 Exc Bike and Why It Is Great for Dirt Biking!
We all love enduro riding, and Solmoto Enduro Riding has some of the best bikes for the job! The KTM 450 Exc bike and why it is great for dirt biking is not really a question; all enduro riders know that for enduro riding, only KTM gets the job done.
Here at Solmoto Enduro Riding, we have some of the best enduro riding tracks, world famous instructors, beautiful scenic trails, and accommodation, but we also have the professional enduro riding gear that you need. Our enduro bikes and enduro riding equipment is the best equipment money can buy, and for our guests and visitors, we have spared no expense.
The KTM 450 EXC is the ideal motorcycle for enduro riders at all levels of the sport. It's perfect for beginner riders which are just starting out, all the way through to expert riders looking to push things to the limit. We also have in-house mechanics and KTM 450 EXC experts that regularly maintain and service all our bikes ensuring that they are running perfectly for all our guests.
The KTM 450 EXC enduro bike is a 4-stroke enduro off-road motorcycle made by motorcycle company KTM. The models are the European road legal 400 EXC and 450 EXC, the US 450 (Close Ratio) XC and 450 (Wide Ratio) XC-W. The European EXC versions have a small headlight, speedometer, tail-light and somewhat softer link less (PDS) rear suspension. This makes them more comfortable and better for beginner riders.
If you have been searching for an enduro riding holiday that combines luxury, hard enduro trails, amazing food, and accommodation, then look no further than Solmoto Enduro Riding. If you have any questions, then don't hesitate to contact one of our friendly and professional team members.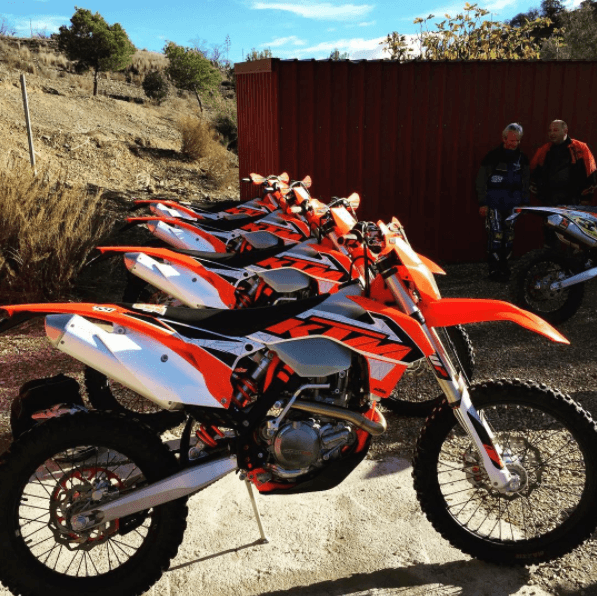 We would love to hear from you