Professional Enduro Guides in Spain
There is nothing like experiencing some of the best enduro riding trails in the world, but without professional and friendly guides you won't get the full experience. That's why at Solmoto Enduro Riding, we have two of the world's best enduro riding guides available for all our guests!
Welcome to Solmoto Enduro Riding! We are proud of the enduro riding facilities and trails we have here in beautiful Spain. We are also extremely proud of two of the best professional enduro guides in Spain, Ben Kupferberg, and Steve Kupferberg! Both guides are extremely accomplished riders and have the experience and knowledge to help enduro and dirt bike riders from beginner riders all the way through to expert riders. We want your riding holiday to be the best you've ever experienced, and our guides Ben and Steve help this become a reality.
Ben Kupferberg has been riding both Motocross and Enduro in Spain for many years. He has participated in professional events for Motocross and Enduro at both regional and national competitions. He has also taken part in a World Enduro Championship round which was held in the local town of Puerto Lumbreras, Murcia. He started racing dirt bikes in the United Kingdom at seven years old and competed in enduro events, motocross, cross country and the Rally Spanish Pro Championships.
Steve Kupferberg has been involved in dirt bike riding and motorcycle sports events for decades. He has experience in the Supermoto and Enduro riding events around the globe. Steve has a passion for everything motorcycle and is one of the most knowledgeable and patient motocross instructors anywhere.
Solmoto Enduro Riding is lucky and proud to have both Steve and Ben Kupferberg. If you would like to book your next dirt bike holiday in Spain, then don't hesitate to get in touch with us today!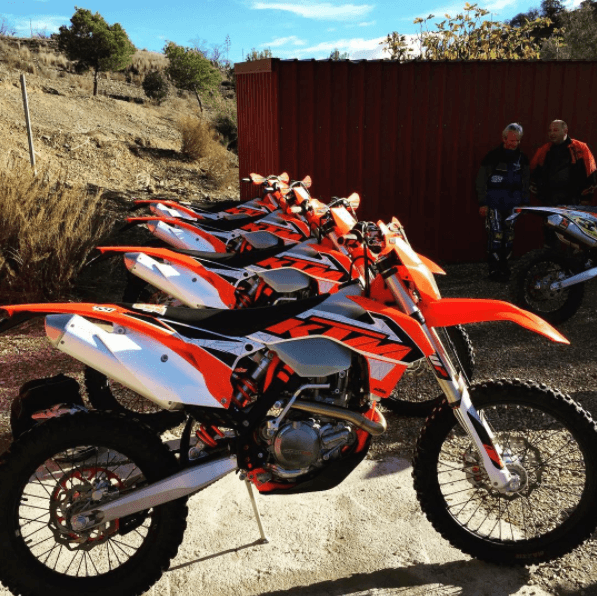 We would love to hear from you