Dirt Bike Holidays in Spain
If you have been searching for a dirt bike holiday in Spain, then look no further than Solmoto Enduro Riding! We have the perfect combination of luxury accommodation, delicious foods and cocktails, and some of the most scenic and challenging enduro riding tracks in Spain!
Solmoto Enduro Riding has been in business for many years now. We have the experience and professional and friendly staff to ensure that your dirt bike holidays in Spain create memories that will last you a lifetime! We understand that enduro riding and dirt bike riding needs to be challenging, but we also understand that at the end of the day you want somewhere nice just to kick back and relax, eat a delicious meal and enjoy some drinks with your friends.
Spain has on offer some of the most scenic, rugged and beautiful countrysides in the world. It's climate and location make it the perfect place for getting out on a dirt bike and exploring everything that this country has to offer. If you only have the opportunity to take one dirt bike holiday, then make sure that you experience Solmoto Enduro Riding! We have enduro and dirt bike trails and tracks to suit beginner, intermediate and expert level dirt bike riders. We also have the famous 2013 Enduro World Championship tracks. You'll be able to test out your skills against some of the world's greatest enduro rider's times.
Solmoto Enduro Riding has luxury accommodation and delicious dining all available on site. After a hard day's dirt bike riding, you'll be able to relax by the side of our amazing pool and drink the night away with friends or family. To find out more about dirt bike holidays in Spain, then don't hesitate to get in touch with us at Solmoto Enduro Riding today! Hurry, spots fill up fast.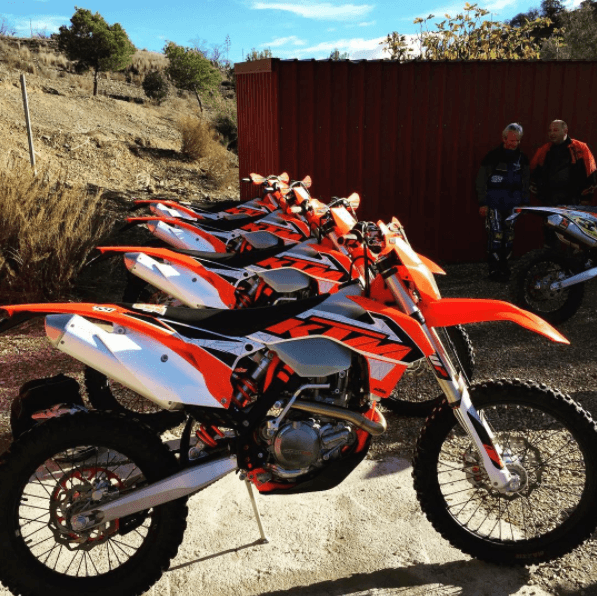 We would love to hear from you